Living Energy Systems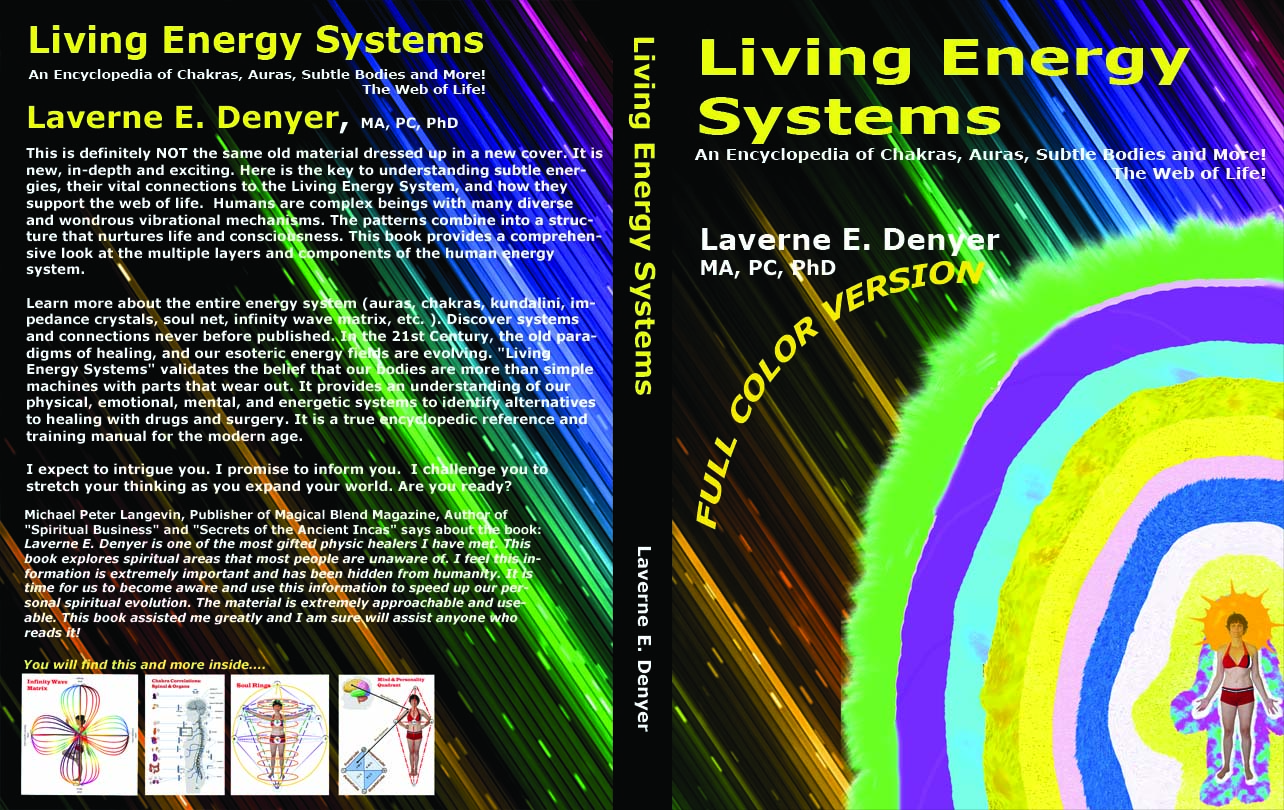 An Encyclopedia of Chakras, Auras, Subtle Bodies and More!
You can purchase the book in three different formats from Amazon. Choose the one that best fits your pocketbook:
Full Color, 8 1/2" x 11" textbook for $39.95
eBook edition for $6.99
Black and White, 8 1/2" x 11" textbook for $12.00
Learn more about the entire energy system (auras, chakras, and more) in this comprehensive text. In the 21st Century, the old paradigms of healing are evolving. Living Energy Systems validates the belief that our bodies are more than simple machines with parts that wear out. It provides an understanding of our energetic systems and alternatives to healing with drugs and surgery. - This is the FULL COLOR edition with all illustrations in color. If needed, look for the Black and White version, or the e-book at a lesser cost. Living Energy Systems is the self-help manual that maps out the framework of the body's complex network of chakras, auras, and subtle energies. Author Laverne Denyer, a healer for over 45 years has applied her insight and expertise to produce this exciting visual roadmap to human energy fields. Her detailed illustrations of the vibrational structures and clear descriptions provide an excellent overview of a healthy Living Energy System, with all of its subsystems, functions and interrelationships. Packed with extensive diagrams and clear illustrations, this book provides a comprehensive examination of the body's Living Energy Systems that no other reference source has. Living Energy Systems is the essential manual for anyone involved in healing and conscious health care, as well as those seeking to understand and/or heal themselves.
The Magic Key: Meditation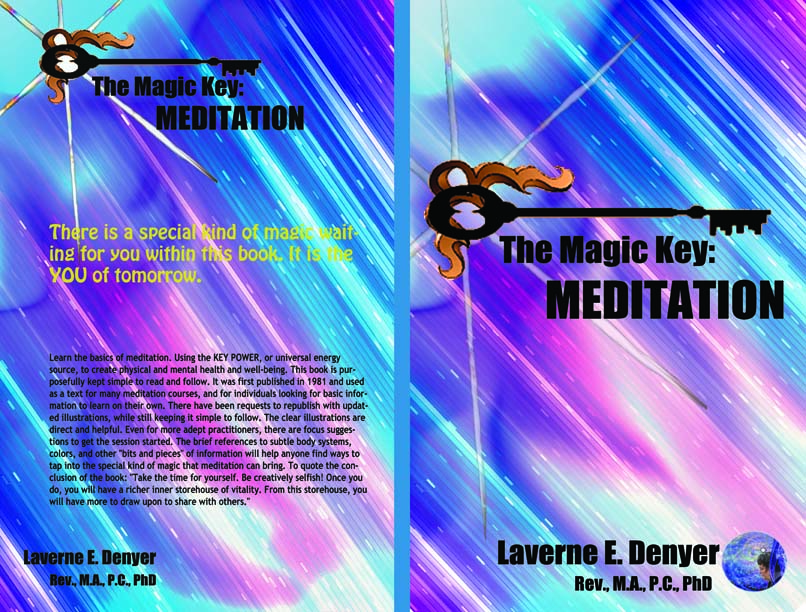 You can purchase the book in two different formats from Amazon. Choose the one that best fits your pocketbook and use:
eBook edition for $2.99
Black and White, 5 1/2" x 8 1/2" textbook for $4.99
Learn the basics of meditation. Using the KEY POWER, or universal energy source, to create physical and mental health and well-being. This book is purposefully kept simple to read and follow. It was first published in 1981 and used as a text for many meditation courses, and for individuals looking for basic information to learn on their own. There have been requests to republish with updated illustrations, while still keeping it simple to follow. The clear illustrations are direct and helpful. Even for more adept practitioners, there are focus suggestions to get the session started. The brief references to subtle body systems, colors, and other "bits and pieces" of information will help anyone find ways to tap into the special kind of magic that meditation can bring. To quote the conclusion of the book: "Take the time for yourself. Be creatively selfish! Once you do, you will have a richer inner storehouse of vitality. From this storehouse, you will have more to draw upon to share with others."